COURSE CREDITS & HOURS
Credits/ Hours TBA
COURSE FEES
$995
There is NO Course fee for 2
nd
attendee from same Family or Company
PROGRAM PURPOSE
Introduction to the Wealth Alpha™ Concept:
This workshop will take you through the steps necessary to achieve your own definition of success, to create your Wealth Alpha™. Those steps involve a dive into maximizing the value of your business via the Value Builder� Freedom Workshop, defining what you want to achieve both personally and professionally: your goal setting. We then explore how the resources and assets you have at your disposal can most efficiently contribute to success.
Wealth Alpha™ is a combination of Business Strategy and Planning, Personal Holistic Financial Planning, and a dive into motivation and long term vision for the future.
You will leave with a workbook containing a personalized action plan for creating your own Wealth Alpha™ and fueling your dreams.
The Value Builder™ - Freedom Workshop
YOU STARTED YOUR BUSINESS FOR THE FREEDOM that comes with running your own company: the freedom to earn what you deserve, and to work for whoever you want, when you want, and from wherever you want. The challenge is that for many business owners the dream remains elusive. You'll learn:
How to recognize when you've fallen into The Owner's Trap and how to pull yourself out;
The 3 attributes of a scalable business model;
The one kind of revenue that can triple the value of your business;
The six forms of sustainable recurring revenue;
The 2 essential elements of your marketing plan you need in order to avoid commoditization;
The 1 question you need to ask customers to predict the likelihood that they will buy again.
GETTING YOUR MBA - MASTERING BUSINESS APPRECIATION
8 KEY THINGS THAT DRIVE THE VALUE OF YOUR BUSINESS
MASTERING THE KEY DRIVERS OF YOUR BUSINESS VALUE
ARE YOU TOO BUSY WORKING IN YOUR BUSINESS TO WORK ON IT?
CREATING YOUR WEALTH ALPHA™ - DEFINING PERSONAL SUCCESS
8 KEY FACTORS THAT DRIVE WEALTH ALPHA™
BRINGING IT ALL TOGETHER
WHAT NOW? ARE YOU LEAVING A LEGACY OR LABOR FOR YOUR HEIRS?
COMMON COSTLY PLANNING MISTAKES
TAKING ACTION: CREATING ALPHA AT THE INTERSECTION OF BUSINESS & LIFE ©
NEXT STEPS - YOUR ACTION PLAN FOR IMPLEMENTATION
IMPORTANT INFORMATION
BIAS FREE CME
- No Commercial Support was provided for this CME activity.
Faculty
Reneé Caputi, MBA, JD, LLM
Founder of Enhanced Solutions Advisors, LLC
Reneé is a trusted Advisor that provides consultative and advisory wealth planning to Cross-Border and US Entrepreneurs and Families. This includes coordinating the various specialty professionals needed for a tax, estate, or investment plan to ensure the best and most efficient structures and management are in place. She spearheads projects customized to help clients navigate the complex worlds of Income Taxation, Estate Taxation, Asset Protection, Succession Laws, and Family Dynamics. By making information more accessible, decision processes more transparent, and data more trackable she can help you
Enhance your Alpha™.
She is a national speaker and educator on the topics of US and International Taxation, Asset Protection, Entrepreneurship, Estate Planning, Wealth Management, Considerations of Cross-Border Investing, and Business Topics like Mergers & Acquisitions, Strategic Management, and Due Diligence. Reneé is also co-founder of Virtus Technology Group, a cloud based decision support tool for Due Diligence in the Private Investment space.
Her international experience has taken her to multiple countries in Europe, Asia, and South America to work with clients on how to properly position themselves with their investments in the United States and throughout the world.
Reneé' is a member of the NY State Bar Association, American Bar Association, Family Office Institute, and supports Envision Broward of the United Way. She holds the NASD Series 7 - General Securities, Series 63 & 65 and Florida Life, Health, & Disability Licenses and is a NY Bar admitted attorney.
ITINERARY
DATE
PORT OF CALL
ARRIVE
DEPART
Sun May 26
Dublin, Ireland

-
6:00 pm
Mon May 27

*

At Sea - Cruising

-
-
Tue May 28
Alesund, Norway

12:00 pm
8:00 pm
Wed May 29
Bergen, Norway

7:00 am
4:00 pm
Thu May 30
Geiranger, Norway

8:00 am
5:00 pm
Fri May 31
Olden, Norway

7:00 am
4:00 pm
Sat Jun 01

*

At Sea - Cruising

-
-
Sun Jun 02
Belfast, Northern Ireland

9:00 am
6:00 pm
Mon Jun 03
Dublin, Ireland

2:45 am
-
*
Tentative course schedule, actual class times may differ.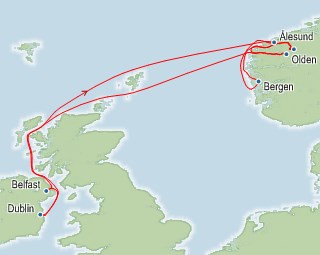 PORTS OF CALL
Dublin, Ireland - Dublin, the fair city, invites you to wander the streets trod by Joyce, Yeats and Oscar Wilde. Drop in at pubs with mahogany bars and stained glass. In the Trinity College Library, feast your eyes on the illuminated 9th-century Book of Kells. Sample the world's most famous stout at the original Guinness Brewery. And, of course, there are plenty of shopping opportunities — from a souvenir shillelagh to Waterford crystal.
At Sea - Cruising - Cruising
Alesund, Norway - The picturesque Art Nouveau town of Älesund has a beautiful setting across several islands stretching out into the sea, and is situated at the very entrance to the world heritage listed Geirangerfjord. The town is also an excellent starting point for round trips to some of Norway's most popular tourist attractions. Ålesund is internationally renowned for its unique architecture in the Art Nouveau style. The town was devastated by fire a winter's night in 1904, laying 850 houses in ashes and leaving 10.000 people homeless. During a remarkably short period of time, the new Ålesund was rebuilt in the unique architectural style, especially significant from 1890-1910, with a myriad of turrets, spires and medieval ornaments. The Art Nouveau Centre portrays the town's unique position in Norwegian architectural history.
Bergen, Norway - A key member of the medieval Hanseatic League of Merchants, Bergen has had plenty of practice combining commerce with community. In this delightful city, you will find pleasure in the Bryggen waterfront district and marketplace, or travel out of town for some great backcountry hikes. On the shores of Nordnes Lake is Troldhaugen—the historic home of composer Edvard Grieg.
Geiranger, Norway - Welcome to the Jewel in the Crown of Norway's fjords. Geiranger Fjord was made a UNESCO World Heritage Site in 2005, but the area has been luring tourists since the turn of the 19th century. Take the Waterfall Walk to the heart of the cascades. Climb the Skywalk for Europe's highest fjord view with Norway cruises. Explore Geiranger by bike or on foot, or hop in a raft or kayak for a view from the water. Once you've taken in your fill of mountain air, stroll the quaint village center. Indulge your sweet tooth at the local artisan chocolate shop, or sit back at a cafe with a coffee and a krumkake — a rolled cake with whipped cream in the center — and enjoy the view.
Olden, Norway - As well as being surrounded by immense natural beauty - think emerald lakes, towering mountains and cascading waterfalls - this fjord village of approximately 500 inhabitants once hosted American portrait and landscape artist John Singer Sargent (1856-1925), whose "Singerheimen" home is about a mile from the pier.Olden is mainly a gateway to outdoor activities, such as fishing or boating in the chilly teal-colored, glacier-fed waters of Oldevatnet Lake.
Belfast, Northern Ireland - So much of Ireland's political history is tied up in Belfast that many visitors are surprised to find that it is also a modern city, blending old and new effortlessly as the troubles of its pass fade into history. A day trip away are the Giants' Causeway (a series of stone pillars that extends to Scotland) and the spectacular Antrim coast.
Celebrity Reflection
PLEASE NOTE:
To attend the conference or participate in conference events, participants, their families, and guests must book their cruise within the CEI meeting group through Continuing Education, Inc. This ensures our company can provide conference services and
complimentary social amenities
to all meeting participants
and their guests
. Thank you for your cooperation.
Register your interest and receive a full quote at 800-422-0711 (US/Can) or direct/int'l tel: +1-727-526-1571 or by
registering online
.
STATEROOM DETAILS
PRICING PER PERSON
Prices below are for the full cruise including meals and evening entertainment
Suite/Deluxe
Royal Suite (RS)
Unwind in a luxuriously large living and dining area featuring floor to ceiling panoramic windows, a primary bedroom featuring the luxury king-sized mattress, a primary bathroom with a large soaking tub, a separate shower, and a double sink vanity. With this and a spacious private veranda, you'll enjoy stunning views of the sea no matter where you are. This suite confers all of the benefits of The Retreat. Royal Suites can connect directly to the Iconic Suite for a larger group. 590 sqft with a 153 sqft private veranda.
Please Call: 800-422-0711
for Pricing

There are many promotions right now!

Let our Agents find the best value for you.
Celebrity Suite (CS)
These two-room suites feature a large living area with floor-to-ceiling panoramic windows, a private veranda, and a primary bedroom with a king-sized bed. Celebrity Suites confer the benefits of The Retreat, including a private restaurant, exclusive lounge, and dedicated Personal Retreat Host. One Bedroom, One Bathroom. 460 sqft with 51 sqft private veranda.
Please Call: 800-422-0711
for Pricing

There are many promotions right now!

Let our Agents find the best value for you.
Balcony
Prime AquaClass Stateroom (A1)
Prime Staterooms are located in the most desirable locations on the ship. AquaClass Staterooms have world-class amenities included access to the specialty restaurant Blu, in-room health and wellness amenities, and complimentary bathrobes and slippers. 194 sqft with 54 sqft veranda.
Please Call: 800-422-0711
for Pricing

There are many promotions right now!

Let our Agents find the best value for you.
Prices are Per Person, Double Occupancy, Subject to change.
3rd/4th in Stateroom - Call for Pricing
Port Charges, Taxes & Fees $274.91 per person.
Deposit $450.00 per person
Course Fee Cancellation Policy: 30+ days before sailing date - 75% Refund ; 7-29 days before sailing date - 50% Refund; Less than 7 days before sailing date - No Refund
Cruise Cancellation Policy: Cancellation policies vary by cruise line, destination and sailing date. Please check with one of our agents for policies applicable to this cruise.
* COMPETITIVE PRICING PROMISE: While we are not a 'cruise discounter,'
we will match
any price offered
by the cruise line, directly to the general public, at the time of booking
. This offers includes many short-term, promotional rates. All cruise line rates
can be withdrawn
by the cruise line
at any time
and are capacity controlled.
PRICING SUBJECT TO CHANGE: Although subject to change at any time, the listed prices are generally available up to about 90 days before sailing; at that time they convert to typically higher, market rates. Rates offered directly by the cruise line and quoted by our agents are also subject to change at any time, can be withdrawn at any time and are capacity controlled.
CANCELLATION PENALTY POLICY WILL APPLY: Cancellation policies vary by cruise line, itinerary and length of cruise. When reserving your stateroom, please review the policy applicable to this cruise with our staff. We strongly recommend Travel Insurance to cover the unexpected.
FUEL SUPPLEMENT: Cruiselines may implement a fuel surcharge depending on the price of crude oil.
Chubb Travel Protection Overview
Please note, this insurance protection is available to the residents of the United States only,
that coverage limits are per person and that limits can vary by State.
Standard Plan Benefits
Travel Basics
Travel Essentials
Travel Choice
Trip Cancellation
100% of Trip Costs
($100,000 maximum)
100% of Trip Costs
($100,000 maximum)
100% of Trip Costs
($100,000 maximum)
Trip Interruption
100% of Trip Costs
($100,000 maximum)
150% of Trip Costs
($150,000 maximum)
150% of Trip Costs
($150,000 maximum)
Trip Interruption - Return Air Only
$500
$750
$1,000
Trip Delay
$500 ($100 per day)
$750 ($150 per day)
$1,000 ($200 per day)
Missed Connection
NA
$250
$500
Baggage & Personal Effects
$750 ($50 deductible)
$1,000
$2,500
Baggage Delay
$200
$300
$500
Accident & Sickness Medical Expense*
$15,000 ($50 deductible)
$25,000
$50,000
Emergency Evacuation & Repatriation of Remains
$150,000
$500,000
$1,000,000
Accidental Death & Dismemberment
NA
$10,000
$50,000
Assistance Services
Included
Included
Included
Additional Benefits (if purchased within 15 days of Initial Trip Payment; Day 1 is the date the Intial Trip Payment is made)
Pre-Existing Medical Condition Exclusion Waiver
Included
Included
Included
Trip Cancellation/ Interruption due to Financial Default
Included
Included
Included
Accident Sickness Medical Expense
Excess Coverage
Primary Coverage
Primary Coverage
Baggage & Personal Effects
Excess Coverage
Excess Coverage
Primary Coverage
Flight Accident
$25,000
$50,000
NA
Missed Connection
NA
Additional $250
Included in base plan
Optional Benefits (if selected byt the Applicant and required premium is paid)
Medical Coverage Upgrade
Included in base plan
Included in base plan
Additional $50,000
including Emergency Evacuation*
Additional $150,000
Additional $500,000
Included in base plan
Car Rental Collision Coverage
$35,000 ($250 Deductible)
$35,000 ($250 Deductible)
$35,000 ($250 Deductible)
Flight Accident
Amount selected up to $500,000
Amount selected up to $500,000
NA
*
Coverage, pricing and availability may vary by state
*Additional Benefits change not available for CA, CO, KS, MN, MO, MT, NH, NY, PA, TX or WA residents at this time.
https://www.shoreexcursionsgroup.com/results/?line=163&shipId=2564&arrival=2019-05-26&nights=08
Questions?
Call us at 800.422.0711 (US & Canada)
Or +1-727-526-1571
We can assist you with all your travel arrangements. We'd be happy to help you plan your flights, hotels or tours before and/or after your conference.